Water heater is one of the most crucial appliance that one needs, since it  consumes 20% of a home's energy cost, it's very important to select a reliable and efficient heater among many. But choosing a suitable heater from many brand can be tricky and many a times an overwhelming job. So, we have come up with some of the best water heater brands, to lessen your headache and ensure that you have a relaxing buying experience. Our gathered brands are in the top list among consumer choice, due to their multi-attributes such as-innovation, durability, efficiency, functional smoothness etc. 
1. Rheem Water Heater
Rheem Manufacturing Company is an American company which produces water heaters and boilers, heating, air conditioning and ventilation equipment's.With the mission statement of "help your family enjoy a new degree of comfort with solutions that keep you cool in the summer, warm in the winter and enjoying hot water year-round.", this company was established in 1925.
The amazing thing about this brand is their reputation. They have been operating for nearly 100 years and  are considered as a market leader in particularly water heater production niche. With headquarter being in Atlanta, Rheem internationally operates in 14 countries and it is the largest manufacturer of water heating products in North America.
Usually the firm produces water heaters in many sizes, with different features and warranties. Among their diversified product lines for water heaters, Rheem's tankless water remains distinctively in demand in the market. The premium brands of Rheem in water heater include Richmond, EcoSmart, Rheem, and Ruud.
More to the point, tankless water heaters that they are manufacturing require very little maintenance cost. Due to its application mechanism, this brand gained immense popularity among consumers. If you are looking to buy energy efficient and durable tankless water heater, Rheem would be your best choice.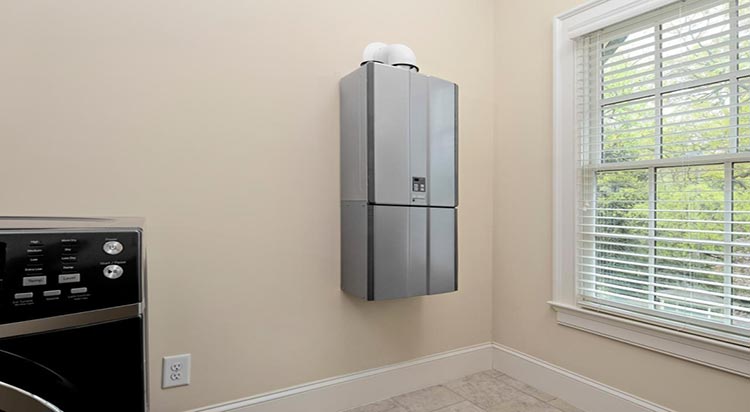 A. O. Smith Corporation manufactures their high quality products for both commercial and residential end consumers and are one of the largest US Company. The inception year of firm was in 1874 and headquarter is situated in Milwaukee, Wisconsin.
Their water heaters are sold exclusively by their wholesalers and contractors and product features and attributes range from hybrid, solar to high-efficient gas tank water heaters.
Diversified in product quality and price, A. O. Smith's brand is highly energy efficient and has a really fast recovery rate, which keeps them on top when it comes to reliability metric. Especially, they  focus on innovation and durability of their product.
A.O. Smith's water heaters remain on top list choice among consumer due to brand value and performance factor of the product itself.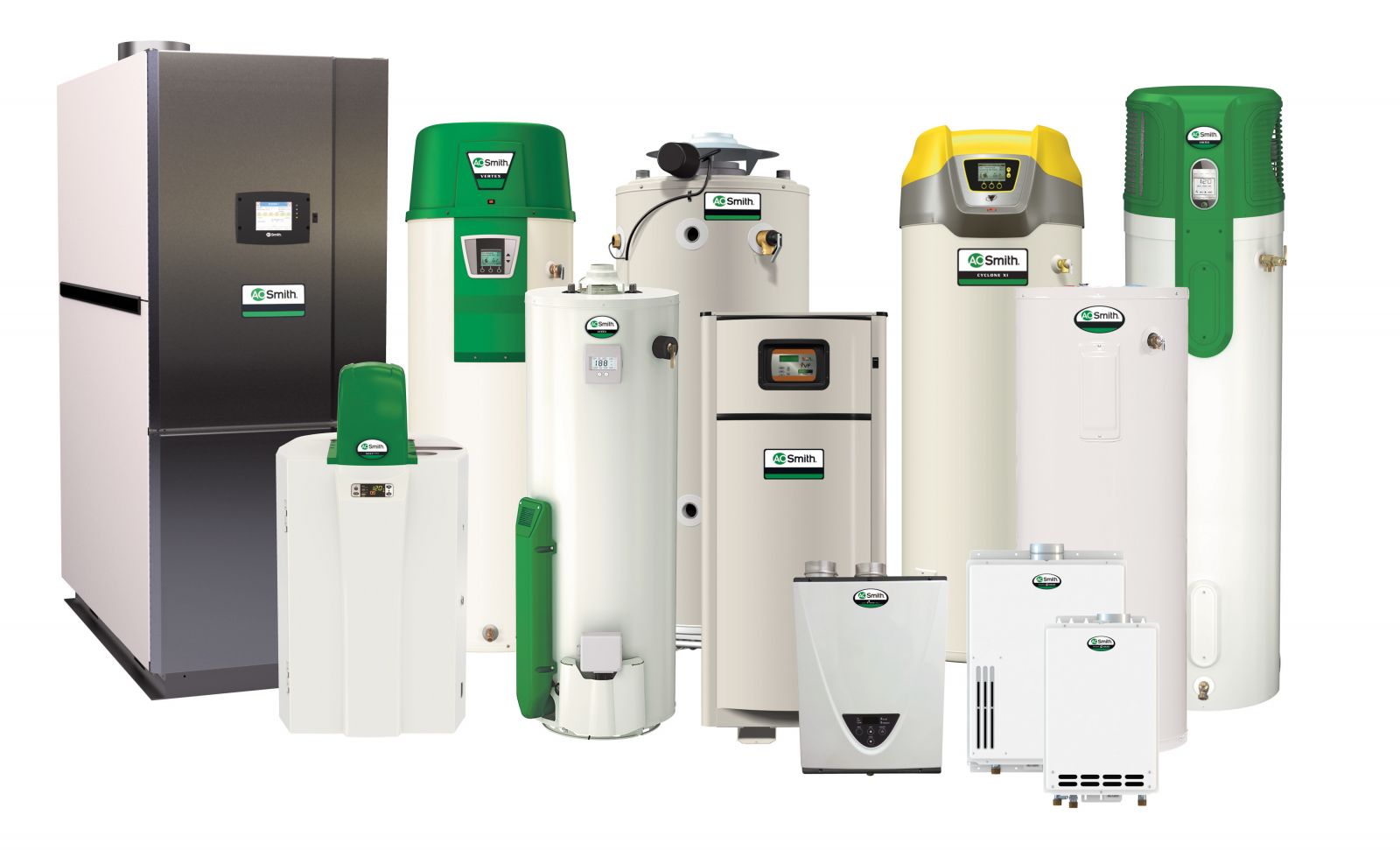 Not Convinced Enough ? Let's Pick The Best One, ao smith water heater vs rheem.
Bradford White Corporation is also an American company, which is in the market frontier line for producing variety of space heating and water heating equipment. This company produces the highest quality water heating products both gas and electric that dominates the market.
Bradford White's brand products are a bit costlier in comparison to similar products from other brands. They are distinguished themselves from others in terms of durability and energy efficient , which saves the money of the users.
However, the company sells their product through wholesale distributors channel. Therefore, it's hard to find out real in-depth review from users. Their heater also needs to be installed by professional installer expert and only then a user can get warranty for their product and it is given for 10 years or more. Besides, the only downside is their pricing is too high in comparison to others.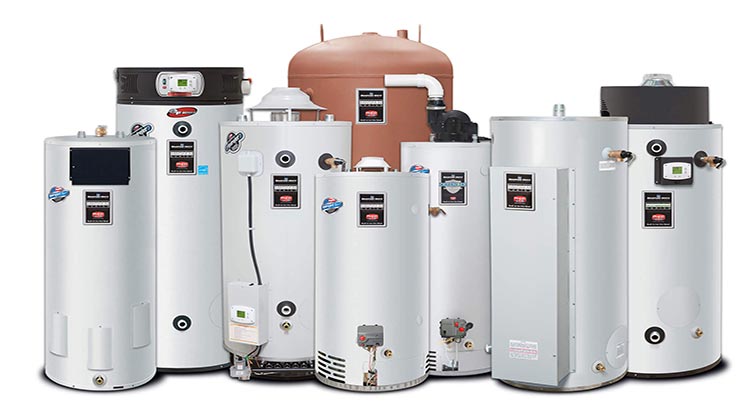 Kenmore is one of the most trusted brands in the US and their water heater appliances are really the top notches. Kenmore made products are produced in variety types such as- electric, hybrid heat pump, natural gas etc. They produce these diverse range of products to cater the diversified needs of their market segment. This is to be mentioned here that A. O.  Smith is the parent company of Kenmore which is the different in branding.
Their products successfully passed the reliable metric and provide 6-12 years warranty period. Due to their reputation for being reliable, consumers might check this brand while considering to buy water heaters.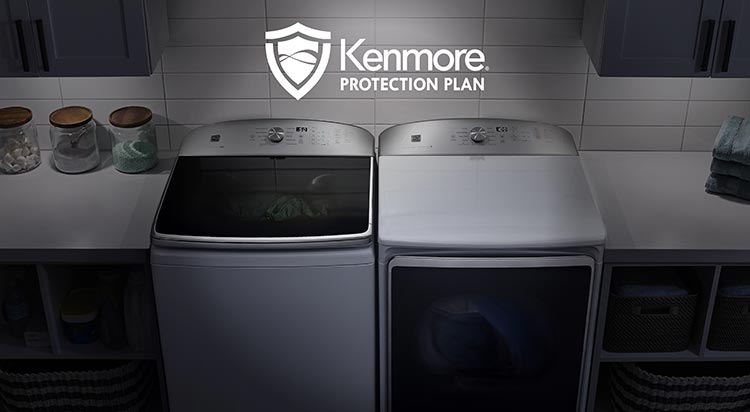 GeoSpring Hybrid Water Heater are the first of its kind was launched in US since 2014. It is the most popular heat pump water heater in US market due to some of its amazing quality.
Water heaters are one of the most energy consuming appliances at home. It is liable for 17% of a house's total energy cost. GeoSpring water heaters from General Electric took this competitive advantage of this particular factor and their heaters consume much less energy than its contemporary brands.  They can save a household up to almost $490 depending on the gallon size.
General Electric focus to fill the gap for consumer to find energy efficient water heaters that set them apart from many other brands. Since Haier bought GE, the GE appliances stopped producing water heaters, so the existing water heaters were produced before the transaction happened. Environmentally friendly and energy consumption conscious consumers seek out this hybrid brand.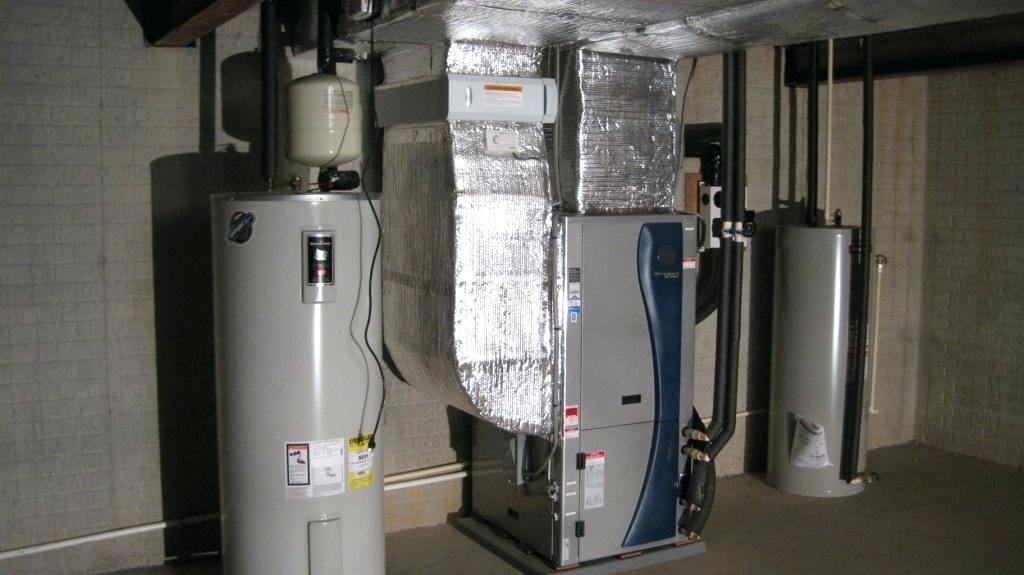 Bosch is one of largest supplier of miter saw, security systems, household appliances, water heating systems and many more. They have gained market respect and reputation through their commitment towards quality and innovation.
Their brand value, loyalty and commitment to their loyal clients surely is surprising as they consider them as their own family. Bosch water heater is highly recommended by professional contractors. Due to their vast experiences for last 125 years, they have become a very trustworthy and dependable brand in the market.
The firm mainly produces tankless water heaters and they are very reputed due to its durability, reliability and longevity factors. Their commitment towards performance and sustainability helped them in producing top notch quality water heaters. That's why, they can confidently provide more warranties than their counterparts.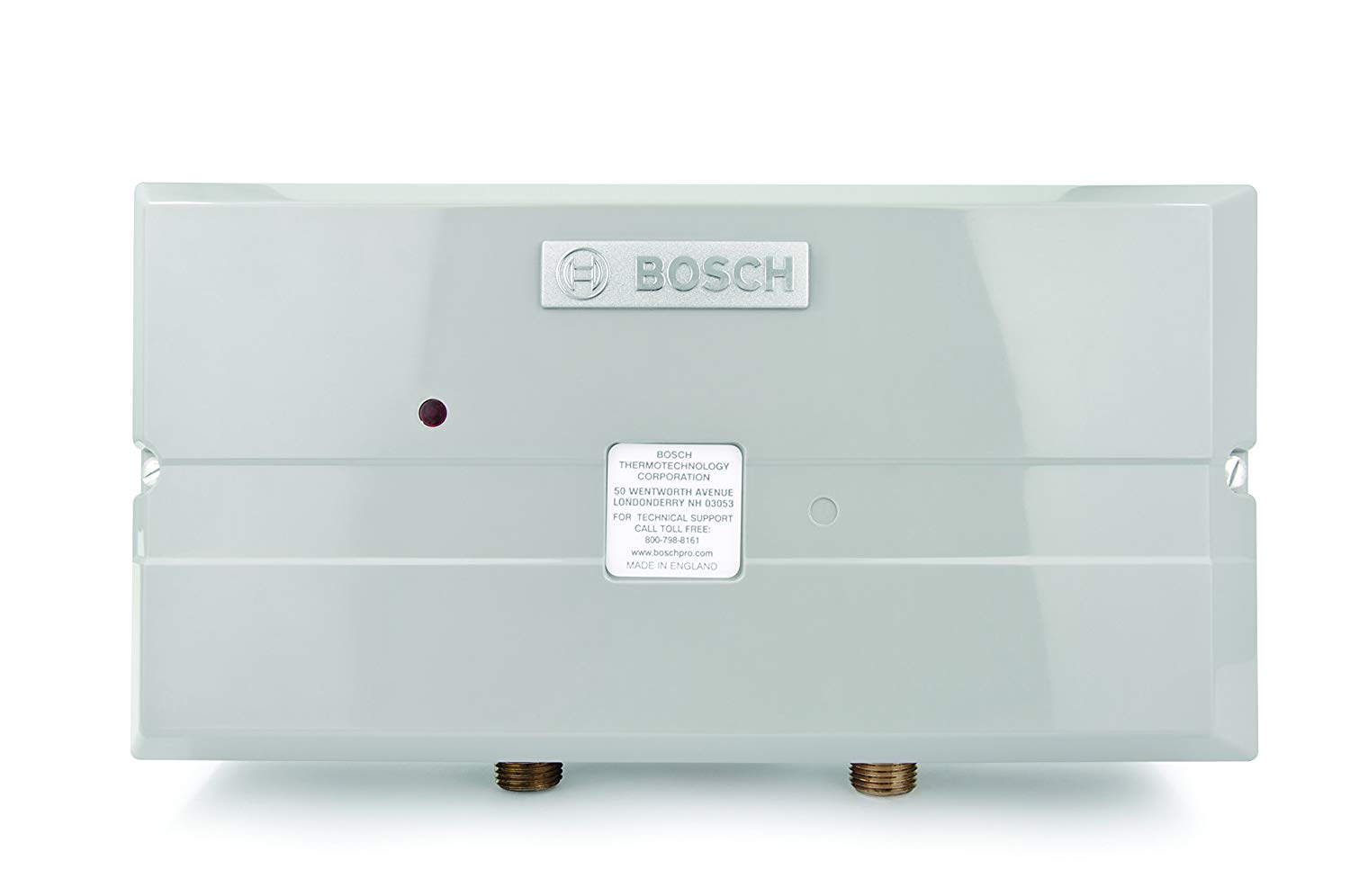 Best Water Heater Buying Guide Factors
Energy Efficiency
In case of water heaters, the energy efficiency or effectiveness depends on the capacity and fuel type of this particular product. Comparatively, tankless water heaters tend to be more energy efficient. For determining energy efficiency, it's imperative to look at the energy star rating of the brands.
Flow rate
The flow rate of a water heater determines how much access the user will have to hot water. While buying it, it's better to buy the ones which have high water flow.
Anti-scale devices
Water heater with anti-scale devices can prevent mineral and sediment build-up issues, thus ensuring higher durability. So, it's important to look for ones which have anti-scale devices.
Size
Size comes with weight issue as well. So it's important to choose model that will fit in where you want to install it.
Construction
Water heaters with strong construction will have lesser corrosion thus increasing the durability. So, choose models that have high construction with corrosion resistant interior.
Warranty
Warranty is the most serious issue while choosing models for water heaters. If the chosen model have maintenance or damage issue, having longer warranty will ensure that you are protected for longer time.
What Brand of Water Heater is the Most Reliable?
Almost every modern household requires a water heater these days. As it is a tool, you'd use almost every day, it's obvious that you would want to have the best one. So, you may ask what brand of water heater is the most reliable one. The obvious answer would be the Bradford White Water Heater.
Electric water heaters reduced a lot of manual work from our lives. It has almost become a necessity for our households. We use them for multiple purposes. Choosing the right heater might get confusing because of the variations. Therefore, we need to know some valuable information about the ones we're buying.
The Bradford White Water Heater
The Bradford White Water Heater is an electric gas water heater. Manufactured and produced in America, this water heater has all the quality level water heating applications. It's on the top of America's most used water heaters. So, the quality is definitely on top. The discussion down here may help you gather all the recommendations that you need regarding what brand of water heater is the most reliable and also about buying this amazing heater. So, let's get started!
Weight and Dimensions 
The Bradford natural gas water heater weighs about 134 pounds. This is quite the average weight for a model heater. This product is 60.5 inches tall, with a length and width of 20 inches each. So, it's pretty clear it has the proper dimensions. Also, it has 3X4 inches vent size and a capacity of 40 gallons.
Performance
The quality of a product mostly depends on its performance. The better the performance, the easier our lives get. This water heater meets the demands here as well.
This electric water heater contains two heating elements of 4500 watts, 240 volts. It has a recovery efficiency of up to 79%, and its energy factor is 0.62. It allows about 40,000 BTU per hour. Natural gas is the power source of this heater. Delivering up to 76 gallons in the 1st hour, the performance intensifies.
The inner part of the tank is made of high standard materials. Therefore, the natural quality of water remains the same. So, there's no tension for contamination.
Advanced Technology 
Advanced technologies make any product more attractive. Also, they make the products more helpful.  The advanced flame arrestor design stops flammable vapors from coming outside the water heater. It has a resettable thermal switch and a high strength polymer composite Thermowell.
The eco-defender model of this water heater reduces the emission of poisonous gases. Thus, you don't need to worry about harming the environment.
A green LED light will indicate if the pilot is on. Non-CFC foam insulation reduces the amount of heat loss and makes it environmentally sound. Besides, the advanced temperature control system maintains the temperature level.
Maintenance
Nobody would like to put extra work on a simple water heater. So, the good news is this water heater is really easy to install. So, there's no need for extra assistance.
You don't need to clean the air inlet openings or flame arrestors regularly. So, it provides maintenance-free performance. Therefore, it reduces your time and energy. Clearly, it's a high-quality product which takes very low maintenance.
Durability
In terms of electrical products, durability is a massive factor. The premium materials of this water heater make it more durable than other water heaters.
It ensures six years of warranty on the tank along with six years on the element.  But it can smoothly go for 2 or 3 more years. If you observe some Bradford white water heater reviews, you'll see that most users had it for almost ten years or more.
Facilities
Some extra facilities keep this product on top of others. Such as, this electric water heater already comes with multiple built-in features.
The 3/4" NPT factory installed dielectric fittings make it convenient to have a great water connection. Besides, the built-in Hydrojet helps to avoid sediment build up in the tank. Moreover, it has factory-installed heat traps to prevent the heater from heating itself. Thus, you have to worry a lot less.
Usage 
This electric water heater is suitable for both familial and commercial use. However, it's mostly used in residents. But it can perform in bigger states as well.
Bradford is one of the most expensive brands on the market. But there's a reason this heater is America's most used heater. The quality and durability are keeping the consumers satisfied for years. Thus, they go for it time and again.
Appearance 
The pearl white finish makes this heater appear very premium. Also, it has a modern and futuristic look to it. As the outer parts are made of strong materials, it's guaranteed to appear the same for at least six years.
Others
This water heater has a perfect combination between its parts and features. As its main power source is natural gas, it requires lesser electricity.
The size of this product is very moderate. It doesn't take much space. So, it's suitable enough for any reserved place.
While choosing a water heater, you may doubt if the tank can handle the increasing water pressure. Even in this situation, Bradford water heater remains the same.
Considering its service, the price is quite appropriate. Thus, it is a budget-friendly product for most families.  There are different types of water heaters available on the market. But the service of this one justifies the price.
Clearing Confusions
So, are you still doubting what brand of water heater is the most reliable? The variety of brands may confuse you. But as I stated above, this water heater is undoubtedly the best 40-gallon gas water heater.
But if you're still confused about this brand, you can look up some reviews online. And once you get the product, you'll clearly see that it's worth the price. The top-notch quality is made to satisfy the consumers. Besides, the durability will keep you relaxed for about 6 to 10 years.
I hope the discussion was helpful and convincing enough. So now you don't have to worry about doing all the research by yourself.
FAQ: Common Water Heater Questions and Answers
What Is the Best Temperature Setting for A Water Heater?
For most people, the best temperature would be about 120 degree Fahrenheit. Manufacturers use this number as a pre-setting for many new water heaters. For older models, setting the thermostat to medium generally does the trick.
Why Do I Keep Running Out of Hot Water?
There could be many reason behind happening of such case. Dip tube might be broken or lower heating element might have failed. If your hot water keeps running out much faster than it used to, your home is likely in need of water heater repairs.
Why Does My Water Heater Keep Leaking?
There is no readymade answer to this question. Your heater could be leaking for various reasons starting from interior corrosion or the need for replacement of the whole system of the heater.
Why Does The Water Take So Long to Heat Up?
There might be a plumbing issue behind happening of such short of problem. Many time water circulation system repairmen can do the trick.
How Can I Conserve Heated Water?
Investment in low-flow shower head, daily basis water heater maintenance can help in achieving such feat.
What are the benefits of using tankless water heater?
The tankless water heater is activated when you open the faucet and get powered off when you close the faucet.It saves a lot of energy when using hot water. There is no constant need to reheat the stored water. With tankless water heater, you are not wasting the energy that you are not using. This way you save a lot of money and also this is beneficial for the environment.

Related Article
Final Verdict
If you love hot water showers and love to have a great time after considering the overall usage and performance aspects of water heaters, then the above mentioned brands can come across as your knight in shining armor. They will end up eliminating your nagging worry issue about energy consumption and overall performance factors. Depending on the choice criteria, these brands definitely deserves to be in the choice list.