Last year Navein had pulled back almost 3,400 on demand water heater (tank-less) for the second time due to CO contamination but the scenario of the first time was a bit different in 2009. On that time Navien tankless water heater problems were about technical issues.
To break the ice regarding a technical issue, the manufacturer had called it a day for solving the issues and finally launched in 2011 with some more organized and developed gear. Unfortunately, the comeback turned pale for CO poisoning within 7 years, once again.
Then, they decided to work with that serious issue since it's related to public health and the environment. Therefore, figure out a tremendous structure where they used three rungs to create ultimate comfort for the user by educating. And there it goes:
How Navien tankless water heater works:
In the first stage, step by step procedures of tankless water heater will be described according to their helpline team so that customers can understand the procedures of hot water flow and in future can troubleshoot the petite issues by their own, after understanding the course. That's why the following steps are given below:
When the user turns the water tap on then heater starts to determine the amount of supply they needed.
Then, the flow sensor calls up to generate that amount of hot water.
Also, the igniter activates at the same time.
After that, there is a valve to control proper load of gas for ignition, to support the valve a fan and Venturi continuously works in order to monitor the correct supply.
In this stage, a secondary heat exchanger prepares the cold water by pre-heating as if it could get warmer easily in the primary heat exchanger.
Now the water has come to the primary heat exchanger where it will be heated up with a balanced temperature of the flame.
Finally, it will pass through a buffer tank to serve you expected hot water instantly.
From those working procedures, the support team gathered some common hitches inside their buckets. Surely, these crunches have seen by you already or will be facing in upcoming:
Navien tankless water heater common issues
Flow Sensor Issue: Most of the user faced the rust in flow sensor at their device, as a result, the whole system turned down also the supply becomes shut.Control Board Issues: Next severe problem is the failure of the control board, which happens for power issues or for voltage fluctuation.Heat Exchanger Issues: Usually, people don't complain regarding this issue but it happens after a period of time cause the reason of the issue build when it decays and continuously slumps.
Hot Water Does Not Reach To Fixture In Time: Another problem user face for blockage reason and so the water passing becomes sluggish.
When Water Don't Get Proper Heat To Get Warm: One more crucial issue that users complain- their water don't get hot with their expected temperature.
More Issues we have found:
Internal or external leakage might have happened.
Declining the ignition.
Detecting fake flame.
Loosing of flare.
The heat exchanger warmth bigger than the usual measure.
Sometimes Exhaust heat crossed the limit of 65 degree Celsius.
Unusual exhaust regulator.
Odd in dual venturi.
Fan motor problem.
Air pressure issue.
Lack of proper balance in valve adjustment.
Circulation pump problem.
Problem in PCB.
DIP switch adjustment problem.
Panel key issues at the front.
Outdoor temperature problem.
Problems in major panel communication.
To recover the problems, the helpline team has also described some prevalent first-aid techniques and also recommends to contact with them if the user faces any problem, of which solution is  described in the troubleshooting section:
Navien tankless water heater troubleshooting: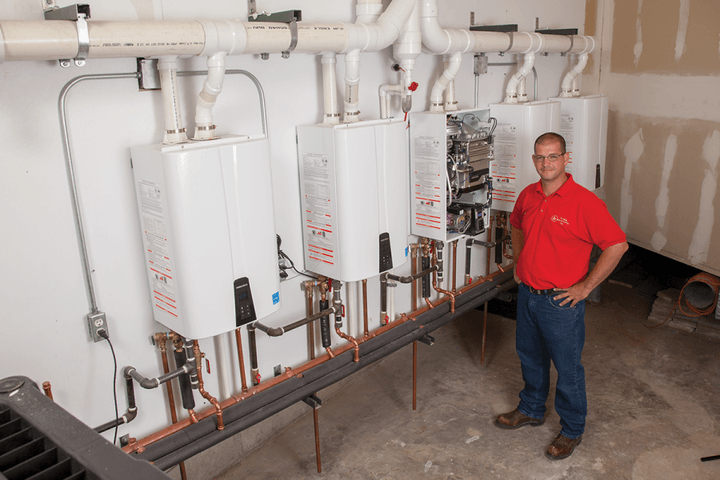 Flow Sensor Solution: According to the manufacturer "user can relief from that temporarily by removing the clasp couple at the same time clearing the build-up, but a wise decision is to attach a stainless steel pipe. If you are new then use a filter inside of the water flow pipe for stopping the problem from the beginning.
Control Board Solution: To solve the issue first check the device plug related problem properly, if it does not work then changing control board will be a better solution.
Heat Exchanges Solution: Since it deals with gas issues so the solution is to change that without delay, cause your family may at risk for that gas leakage.
Solution For Hot Water Does Not Reach To Fixture In Time: The suggestion is: please call an expert and don't do anything by your own since its bit of technical and complicated.
Solution For When Water Don't Get Proper Heat To Get Warm: Initially, you can check the temperature if this not works then call to the service team for further solution.
Solution for Exhaust Overheating: Just stop the heater for half an hour then restart it, that's all.
Fan Motor Problem Solution: First, observe the condition then clear the air filter.
Apart from that, there are a lot of solutions are waiting for users which will be provided by the helpline team. Maybe we could describe some more but want to create a bridge between you and the service team for better service. From that point of view here we put some questions to create the first step of that bridge:
Some Important FAQ
How is the customer service of Navien?
Very good, they won millions of heart at the time of their product problem by providing the best service.
If I face short-circuit or thermistor opening what should I do?
Immediately call the service team.
How to avoid CO poisoning?
It's better to install the tank outside and check regular basis.
Conclusion
Through that bridge, we believe Navien tankless water heater problems will be solved faster than before cause the support they are giving to the consumer literally tremendous. And the pipeline will help them to boost.