There are always some people that like to travel around the continent. Rv just doesn't stand for recreational vehicles. The term also acknowledges a relaxing vacation. Living on it is illegal in terms of government policy. But still, people use it mainly to go on spending a relaxing vacation. But one needs to ensure the water supply in it.Often time, people are confused about the tankless water heater for RV. What should you know about these tankless water heaters? Now, we are here to help you understand all the important things about RV tankless water heaters.
About tankless RV water heaters
Basically, there is no distinctive difference between a regular tankless water heater and the RV tankless water heater. Both operate the same way. But the key difference comes with their cost, size, and overall support. This water heaters are relatively smaller compared with the regular ones and it operates using electricity, gas or propane. They also involve much great security option. But the hot water production rate is not too much like the regular ones. When you need to go on a long trip vacation, installing an RV tankless water heater on your vehicle is always a great idea.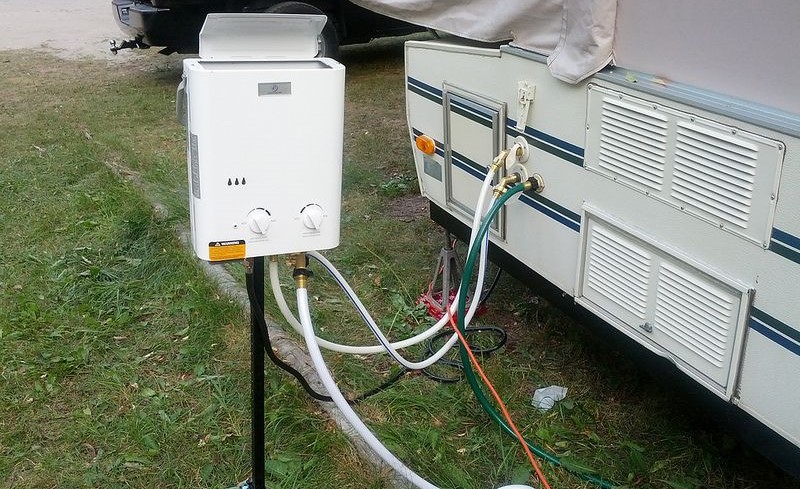 Advantages of a tankless water heater for any RV
No limit for producing hot water: Like the traditional water heater, this tankless water heater doesn't come with any storage option. The appliance only heats water when the water is flowing towards it. The special flow sensor detects the water flow and always heats the water for you. You need storage where cold water is stored. When you connect the tankless water heater with that water supply, you will get hot water whenever you want to.
Saves energy and cash: RV tankless water heater always consumes less energy. Unlike traditional water heaters, this tankless water heater does not use power all the time. Rather it consumes energy when you need to get hot water.
Some use gas to operate and some water heater requires electricity. For the gas water heater, you can use both natural gas and propane. But propane is the best choice for it. Propane is safer, produce more heat. Its tanks are also long-lasting.
A tankless water heater will always keep you out of spending extra cash on gas or electricity bills.
Portable and easy to install: The size of the RV tankless water heater is quite small. The best part about the appliance is that you can wall mount it anywhere in your vehicle. Installing the appliance is always easy. It needs to be user-friendly. You will not find any professional mechanic when you are out of vacation. So, the manufacturers focus on providing the best care in handling the water heater. The size, weight and production rate are suitable to give you a pleasing trip.
Has no pilot light: This is a very important benefit for this unique type of water heater owners. You never know when a little spark in your vehicle catches fire. This is not a good thing. This heater doesn't come with a pilot light to heat water. So, no need to worry about catching fire in it.
Less worry and long lasting: It keeps you out of worry. No need to worry about any pipe leakage, running out of hot water. Also, the tankless water heater for RV offers long-time support to its user. These water heaters are long-lasting and require less maintenance.
Disadvantages of RV tankless water heaters
Inconsistency: Sometimes these heaters are inconsistent. When the water flow gets too low, the water heater cannot operate perfectly. You may face problems in these sort of situations.
It always needs water storage. The tankless water heater will produce hot water when you are using the stored water.
The water flow will not be the same. In those times, the water heater may not work just as you want it to.
Not enough production: One thing for sure, one doesn't need too much water in an RV. So, expecting 2-3 gallons per minute from this water heater is not a good idea.
Yes, the water heater itself doesn't require any storage. But your RV requires one. So, the water flow is not like at home.
You may get 1 gallon per minute from the water heater. Propane powered water heaters produce a little more.
But electric powered RV tankless water heaters water heating depends on the voltage. 110v tankless water heater for RV do just fine to produce 1 gallon per minute. But you may not find it enough.
Frequently Asked Questions & Answers
How much hot water can I get from a RV tankless water heater?
On electric tankless water heater for RV, you will get 1-gallon hot water per minute. But the gas-powered RV tankless water heater may produce one and a half gallon easily.
Where can I install RV tankless water heater?  
You need to install the water heater on the outer panel of your RV. For campers, mounting the water heater below the sink is a good idea. There is no issue with the electric tankless water heater for RV. But for gas RV tankless water heaters, the gas needs to be vented. So, keeping the gas line on the outer panel of your RV will do.
Conclusion
Whether you are going on camping or just on a vacation, you need a water supply on your vehicle. The main problem is that, even though RV's have water storage, you need to get hot water. RV tankless water heater will always come in handy to get hot water. But what makes it stand apart from the regular tankless water heater and what's so special? We just tried to give you the answer to these questions. Basically, this water heater will provide enough hot water to get a good vacation experience.